STOCK STAINLESS STEEL PERFORATED SHEETS
Wellington Perforated Sheet & Plate Inc. provides you with quality products. We offer over 350 different stock perforated patterns from our warehouse in Fergus, Ontario. Give us a call today for a quote or for further assistance!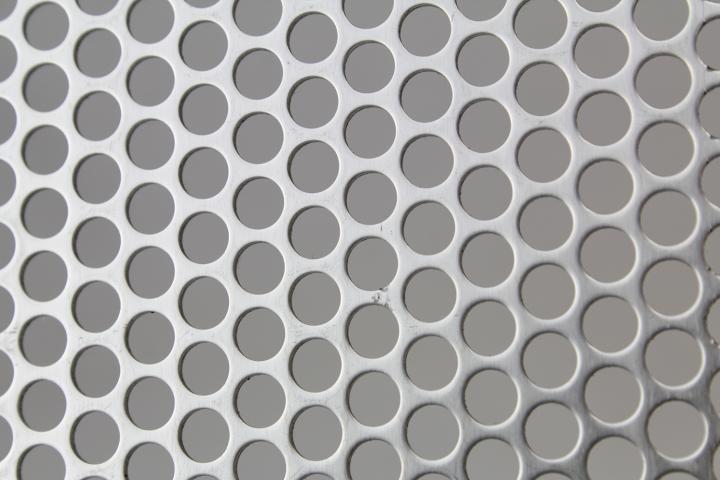 SST304 - Round Holes
This is the most versatile, and one of the most widely applied of the 300 series stainless steels.
Typical applications include:
Storage tanks
Food processing equipment
Chemical containers
Heat exchangers
| Perf | Centers | Gauge | Open Area | Sheet Size | PDF | Image |
| --- | --- | --- | --- | --- | --- | --- |
| .033" | .055" Straight Line | 26 | 28% | 36" x 96" | | |
| 0.045" | .066" Straight Line | 24 | 36% | 36" x 96" | | |
| 1/16" | 3/32" Staggered | 22, 20 | 41% | 36" x 96" | | |
| 1/16" | 1/8" Staggered | 22, 20, 18, 16 | 23% | 48" x 96" | | |
| 5/64" | 7/64" Staggered | 18 | 46% | 48" x 96" | | |
| 3/32" | 5/32" Staggered | 22, 20, 16 | 33% | 48" x 96", 48" x 120" | | |
| 3/32" | 3/16" Staggered | 22, 18, 16 | 23% | 48" x 96", 48" x 120" | | |
| 1/8" | 3/16" Staggered | 22, 20, 18, 16, 14, 11 | 41% | 48" x 96", 48" x 120" | | |
| 1/8" | 1/4" Staggered | 11 | 23% | 48" x 96" | | |
| 5/32" | 3/16" Staggered | 20, 18, 16 | 63% | 36" x 96", 48" x 96", 48" x 120" | | |
| 5/32" | 1/4" Staggered | 16 | 46% | 48" x 96", 48" x 120" | | |
| 3/16" | 1/4" Staggered | 20, 18, 16, 14, 11 | 51% | 36" x 96", 48" x 96", 48" x 120" | | |
| 3/16" | 5/16" Staggered | 16, 11 | 33% | 48" x 96", 48" x 120" | | |
| 1/4" | 5/16" Staggered | 20, 16 | 58% | 48" x 96", 48" x 120" | | |
| 1/4" | 3/8" Staggered | 22, 20, 18, 16, 14, 11, 3/16" | 42% | 48" x 96", 48" x 120" | | |
| 1/4" | 1/2" Staggered | 18 | 23% | 36" x 96" | | |
| 1/4" | 1" Straight Line | 16 | 5% | 48" x 96" | | |
| 5/16" | 7/16" Staggered | 16 | 46% | 48" x 96" | | |
| 3/8" | 1/2" Staggered | 16, 14, 11 | 51% | 48" x 96" | | |
| 3/8" | 9/16" Staggered | 16, 11 | 40% | 48" x 96", 48" x 120" | | |
| 1/2" | 11/16" Staggered | 16, 14, 11, 10, 3/16" | 48% | 48" x 96", 48" x 120" | | |
| 3/4" | 1" Staggered | 16, 14, 11 | 51% | 48" x 96" | | |
| 1" | 1 1/4" Staggered | 16, 14, 11 | 58% | 48" x 96", 48" x 120" | | |
| | | | | | | |