STOCK STAINLESS STEEL PERFORATED SHEETS
Wellington Perforated Sheet & Plate Inc. provides you with quality products. We offer over 350 different stock perforated patterns from our warehouse in Fergus, Ontario. Give us a call today for a quote or for further assistance!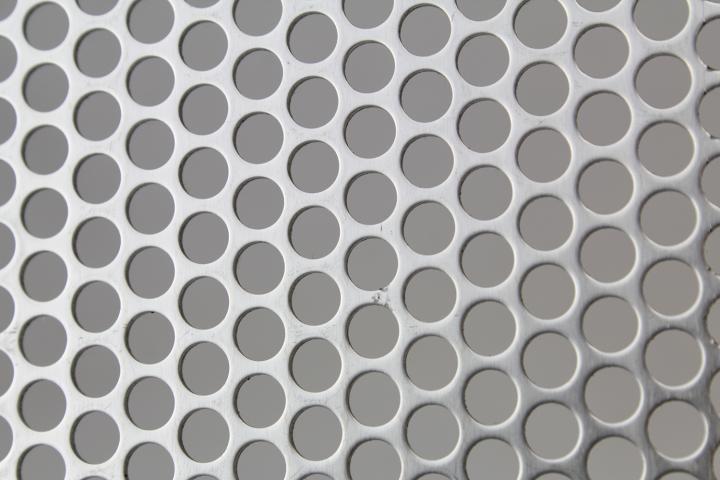 SST316 - Round Holes
Type 316 has a good resistance to a wider range of chemicals than type 304. It is used in applications where it is not possible to anneal after welding and where maximum corrosion resistance is required.
Typical applications include:
Pulp & paper equipment
Dyeing equipment
Exterior architectural components in marine coastal areas
Photogenic developing equipment
| Perf | Centers | Gauge | Open Area | Sheet Size | PDF | Image |
| --- | --- | --- | --- | --- | --- | --- |
| .033" | .055" Straight Line | 26 | 28% | 36" x 96" | | |
| 0.045" | .066" Straight Line | 24 | 36% | 36" x 96" | | |
| 1/16" | 3/32" Staggered | 20 | 41% | 48" x 96" | | |
| 1/16" | 1/8" Staggered | 16 | 23% | 48" x 96" | | |
| 3/32" | 3/16" Staggered | 22, 16 | 23% | 48" x 96", 48" x 120" | | |
| 1/8" | 3/16" Staggered | 22, 20, 18, 16, 14, 11 | 41% | 48" x 96", 48" x 120" | | |
| 3/16" | 1/4" Staggered | 20, 16 | 51% | 48" x 96" | | |
| 1/4" | 3/8" Staggered | 20, 16, 11 | 42% | 48" x 96" | | |
| 3/8" | 1/2" Staggered | 16, 11 | 51% | 48" x 96", 48" x 120" | | |
| 1/2" | 11/16" Staggered | 16, 11 | 48% | 48" x 96" | | |
| 3/4" | 1" Staggered | 16 | 51% | 48" x 96" | | |