STOCK ALUMINUM PERFORATED SHEETS
Wellington Perforated Sheet & Plate Inc. provides you with quality products. We offer over 350 different stock perforated patterns from our warehouse in Fergus, Ontario. Give us a call today for a quote or for further assistance!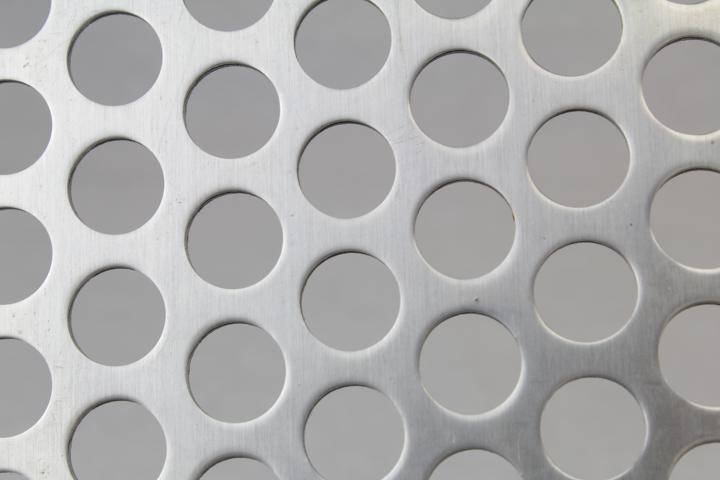 3003 H14 Aluminum - Round Holes
Aluminum is very Light weight, which means it has an ease of formability. Also aluminum alloy does not oxidize, which makes it ideal for outdoor applications. Aluminum is a general-purpose alloy for moderate-strength applications requiring good workability.
Typical applications include:
Outdoor/Indoor railings
Sewage treatment
Signage
Various out door applications
| Perf | Centers | Gauge | Open Area | Sheet Size | PDF | Image |
| --- | --- | --- | --- | --- | --- | --- |
| 1/16" | 1/8" Staggered | 0.032", 0.063" | 23% | 36" x 96", 48" x 96" | | |
| 3/32" | 5/32" Staggered | 0.032" | 33% | 48" x 96" | | |
| 3/32" | 3/16" Staggered | 0.032", 0.050", 0.063" | 23% | 48" x 120" | | |
| 1/8" | 3/16" Staggered | 0.032", 0.050", 0.063", 0.125" | 41% | 48" x 96", 48" x 120" | | |
| 5/32" | 3/16" Staggered | 0.063" | 63% | 48" x 120" | | |
| 5/32" | 1/4" Staggered | 0.032" | 35% | 48" x 96" | | |
| 3/16" | 1/4" Staggered | 0.032", 0.050", 0.063", 0.125" | 51% | 48" x 96", 48" x 120" | | |
| 3/16" | 5/16" Staggered | 0.063" | 32% | 48" x 120" | | |
| 1/4" | 5/16" Staggered | 0.063" | 58% | 48" x 120" | | |
| 1/4" | 3/8" Staggered | 0.063", 0.125", 0.187" | 42% | 48" x 96", 48" x 120" | | |
| 3/8" | 1/2" Staggered | 0.063", 0.125" | 51% | 48" x 96" | | |
| 3/8" | 9/16" Staggered | 0.063", 0.125" | 40% | 48" x 96" | | |
| 1/2" | 11/16" Staggered | 0.063", 0.125" | 48% | 48" x 96", 48" x 120" | | |
| 3/4" | 1" Staggered | 0.125" | 51% | 48" x 96", 48" x 120" | | |
| 1" | 1 1/4" Staggered | 0.125" | 58% | 48" x 96" | | |